日本語
English
Tomomi Hoshiko Biography

Tomomi Hoshiko is a piano soloist and an accompanist active both nationally and internationally. She is also active in teaching to raise younger pianists.

Born in Japan, Tomomi Hoshiko began to play the piano at the age of 4.
Her formal piano studies include Tokyo National University of Fine Arts and Music and University of Music and Performing Arts in Vienna. She obtained the Master degree in piano concert at the University in Vienna.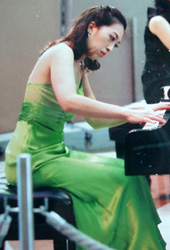 In addition to the formal studies at the Universities, Tomomi Hoshiko studied under Mr.Atushi Sato, Mr.Hiroshi Tamura , Mr.Susumu Umetani, Ms.Takako Horie, Mr.Takejirou Hirai in Japan, Mr.Joorg Demus, Mr.Hans Kann and Mr.Peter Efler in Vienna.

Tomomi Hoshiko has won several prizes including the first prize in the 5th international the piano competition for young pianists in Rome (1994) and the third prize in the piano competition of Dichler Sato in Vienna(1998).

Tomomi has performed widely at concerts and festivals including the Vienna's Mozart Festival in Vienna's Konzerthaus(1993),
Austria and Japan friendship concerts in Vienna's Musikverein (1995),
Haydn Concerts with violist Mr. Wolfgang Wolfer in Eisenstadt Austria(2000,2003),
and "Piano concerto No.2 in B flat major.Op.19"(composed by Beethoven)
as a soloist with Slovakia national theater Symphony Orchestra in Vienna (2001).
She also played the Piano Duo with Prof.Hans Kann at his recital in Vienna's Konzerthaus(1997) as well as a number of solo recitals in Vienna (in 1993, 1994, 1996, 1998).
In Japan she played solo recital at Tokyo Bunka Kaikan Reccital Hall. (4.9.2003)
Murasaki Hall in Tokushima Bunri Univ., she has performed the Duo concerts with
Prof University of Music and Performing Arts in Vienna; Prof.Sona Ghazarian(Sop)
Prof.Ernst Kobacici(Vn),Prof. Edward Zienkowski(Vn).( 7.2002,7.2004,)
She also played Schubert Piano sonata D.784 at Art Tower Mito (5.2002),
Schubert Piano sonata D.959 at Atrium Concert (9.2004)
Tomomi Hoshiko released CD with celloist Mr. Hideo Waki in 2000.